JPI Board of Directors
Kevin Burgess, JPI Board President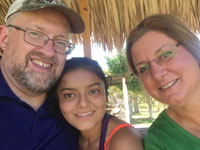 Kevin and his wife live near Akron, Ohio and have 4 children. Kevin has over 30 years of accounting/auditing experience and is currently the Director, Internal Audit & Chief Audit Officer with FirstEnergy Corp. in Akron, Ohio.
Kevin's first trip to James Project of Latin America (JPLA) was in 2014 with his daughter which was intended to make a lasting memory for the two of them. While that trip was a special experience for a dad and his daughter, an added bonus was that he fell in love with the children and the mission of JPLA. He has been an active ambassador of JPLA in Ohio and continues to lead teams to JPLA.
He joined the board of James Project International (formerly 1:27 Missions Project) in 2017 and also serves as the President. He enjoys investing his time, talent and treasure on the JPI board because he has seen first-hand the eternal significance of this ministry.
---
Lisa Burgess, JPI Treasurer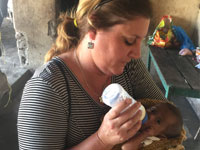 Lisa joined the board of James Project International in 2019. While raising four children, Lisa has used her accounting background in voluntary and part time roles for almost 30 years. Her first trip to JPLA was in 2015 as part of a team led by her husband, Kevin, and including their children. This first-hand experience planted in her a desire to support the ministry of JPLA through child sponsorship and regular mission trips. Lisa's heart is especially drawn to the support of JPLA staff in ways that free them up to fully focus on the daily challenges of their ministry.
---
Cynthia Stuart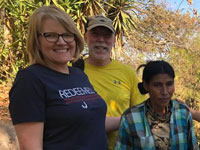 As a lifelong native of Vermont and the Northeast Kingdom, Cynthia is an active volunteer in the community serving on the Concord Planning & Zoning Board, Kingdom East School District Board, the Northern Counties Health Care Board, and Sid's Pantry Board. Cynthia believes that great things can happen through volunteerism and community engagement. With a BA from Trinity College and an MBA from Plymouth University, along with many years in the banking and regulatory sectors, Cynthia brings her business and collaboration skills, along with a tenacity to move projects forward, to the JPLA Board. Cynthia owns Stuart Consulting where she assists businesses, non-profits, and individuals to create meaningful outcomes. Additional information about Cynthia and the types of projects she works on can be found at www.stuartconsult.com.
---
Paul Harris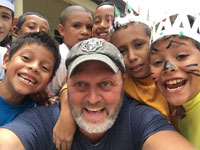 Paul has served on the JPI Board since 2017. He got involved in the organization after participating in a short-term mission trip to Guatemala. While there, Paul heard the call from God to care for orphans and widows, and those that are serving them full-time. Paul is a District Manager of Vintage Stock and lives in Nixa, MO with his wife, Cindy, daughter, Emily, and son, Peyton.
---
Dallas Lehman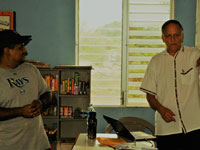 Dallas is the founding administrator of Heartland Christian School in Columbiana, Ohio. He is married to Nancy and they have five daughters and two grandchildren. Dallas was a professional educator for over 45 years. He has a passion for missions and especially introducing missions to young people. He has led eleven short-term mission trips - seven of them to Shadow of His Wings. He was able to take two of his youngest daughters on some of these trips. Since retiring, he started a foundation to help develop leadership skills in young people. He has served on a regional Fellowship of Christian Athletes Board as president and on several other boards as well. He remains active in retirement serving in a number of ways in his church, including leading the missions board. He is always excited to return to Shadow and see the continued development of the staff, facilities and program in this awesome ministry!
---
Bryon Applegate and Tiffany Applegate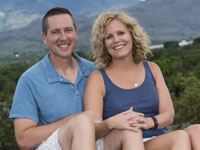 Bryon and Tiffany live in Monjas, Guatemala, along with 3 of their six children (Landon, Jalen, Jaqui, Sierra, Joselin, and Aramie). They have served as Co-Directors for the James Project of Latin America since 2013, when they moved to become full-time missionaries and leaders for JPLA.
The Applegates became involved with JPLA in 2006. During their first trip they fell in love with the country, the people, and the ministry. With God's leading they began leading trips/teams, volunteering, providing sponsorship, and finding ways to get others involved in with what God was doing in Guatemala. As God called them to go deeper with the organization, they founded JPI (formerly 1:27 Missions Project) in 2010.
They continue to serve the Lord in Guatemala and look for ways to get others involved in this amazing ministry.
---
John Gilmore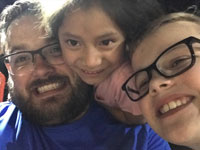 John was first introduced to The James Project of Latin America in 2015 during a Vision Trip while checking out JPLA for a potential missions trip for The Well. After spending a few days at the project playing with the kids and hearing the vision of JPLA, he immediately fell in love with the work they are doing. John had the opportunity to lead teams to JPLA in 2016, 2017 and 2018. During the 2018 trip Micah (John's oldest son) accompanied him on the trip. This experience is something that Micah still talks about today. During those trips, it was John's heart to support the project, love on the kids but also encourage the staff who are on the front lines each and every day. The Gilmores have been sponsoring a child through JPLA since 2017.

John and his wife Sarah live in Aurora, Illinois and have 3 children with 1 on the way. John is the Administrative Pastor at The Well, a nondenominational church in Geneva, Illinois. John joined the board of James Project International in 2019.